Description
NOTE: Out of stock, we're in the process of ordering a larger batch of watch hardware. Please check back later!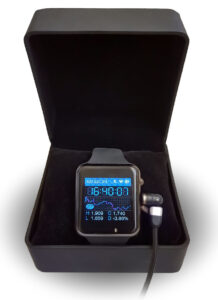 Functions
Standalone device connects to any WiFi router and talks directly to any IOTA node.
Send and receive IOTA on the main or test net.
Monitor the health of an IOTA node.
Monitor live IOTA price, charts and rank (coingecko data).
Low level address management (choose any address indexes).
With companion app that runs on any phone/tab/pc/.
Contents
ESP32v3 Alloy chassis watch with sapphire glass face and nitrile rubber band.
Magnetic coupled charge cable (1m USB_A to USB_Micro_B).
Serial data cable (0.25m USB_A to USB_Micro_B).
Black storage box (0.10m x 0.11m x 0.07m).
Black felt display cushion.
Packing Carton (0.11m x 0.11m x 0.15m).
Shipping Weight 375g.